Medela Calma Solitaire
Breastfeeding is always best for your baby as well as for you, but in some cases it is not possible to breastfeed naturally. Medela Calma Solitaire is an additional teat to add to the Medela Calma Breastmilk Bottle giving breastfeeding mothers an alternative to feed their babies with the nutritious, healthy milk. It enables babies to maintain their natural feeding behaviour learned on the breast and apply it to the nursing bottle.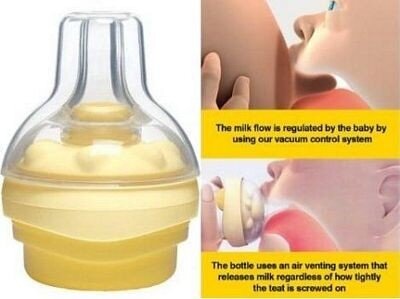 Width: 5.08cm Length: 7.62cm Height: 12.70cm Weight: 0.09072kg
What is in the box:
1 X Medela Calma Solitaire
Switching from bottle back to breast has never been easier.

Calma was developed using evidence-based research on babies' natural feeding behavior so you can enjoy your breastfeeding bond longer.

With Calma, the milk will only flow if your baby works to create a vacuum to remove the milk. This enables the feeding behavior learned at the breast to be used with Calma.

Calma mimics babies' natural feeding behavior, so baby can feed, pause and breathe, similar to breastfeeding. The vented nipple is designed to help avoid gassiness.
Product Details
• Vented nipple: Helps avoid gassiness as the bottle is vented through our unique air-control system
• Mimics natural feeding behavior: Supports easy transition from bottle to breast. Research has shown that with Calma, your baby is able to maintain the learned feeding behavior that your baby exhibits when breastfeeding
• Flow control valve: Allows baby to control milk flow. Milk only flows when baby creates a vacuum
• Calma doesn't drip: You can turn Calma upside down and it still won't drip. Your baby needs to apply a certain level of vacuum in order to get milk out
• One size/shape nipple: For all stages of breastmilk feeding. The flow, shape and length of Calma are designed to suit your baby's needs as your baby grows
• Made without BPA: All parts that come into contact with breastmilk are not made with BPA

*Compatible with all Medela breastmilk bottles
*Breastfeeding must be well established before introducing Calma
1 x Calma Solitaire Teat
1 x Lid
1 x Protective Cap.